One of Vanuatu's premier family friendly resorts
Aquana is such an easy holiday for families. Kids are happy. Kids are busy. Kids are supervised. I read a book. Bliss!
Aquana Beach Resort is a paradise for both children and their parents
Where complimentary nannies engage active kids, allowing parents the opportunity to truly relax and enjoy their island escape
Nestled on the edge of a turquoise lagoon
15 minutes drive from Port Vila, Aquana Beach Resort is a boutique resort of just 16 Bungalows. Spacious in their design and with either 1 or 2 bedrooms, each free standing bungalow has an outdoor hammock, indoor and outdoor living spaces and either garden or absolute beachfront view.
Due to its popularity, Aquana's Waterfront Restaurant and Bar is open to both in house guests and the public from 7.30am – 9pm. With a focus on fresh, locally grown, in season produce, its chefs produce a vast menu of international, local and kid friendly dishes in a beautiful lagoon front setting.
First and foremost however, Aquana is all about family
Less formal than a standard Kids Club, Aquana's nannies are on hand from 7.30am – 9pm daily to keep children U12 years safe, happy and entertained, allowing parents the opportunity to relax and enjoy their own (uninterrupted) holiday. Complimentary whenever parents are on site, nannies interact with families on an 'as needs' basis – joining in games, trampolining, snorkelling and swimming in the resort pool with youngsters. Age appropriate activities are organised and kids are naturally drawn into the fun, encouraging social engagement and holiday friendships. And all device free!
Meanwhile, parents can enjoy the resort's many activities such as surfing, snorkelling and kayaking. Or they can just lie by the pool and read a book, uninterrupted and not preoccupied about their child's safety or whereabouts.
Outside the resort
For those who wish to explore a little, there are many experiences that can be undertaken as a family. Picnics on deserted beaches, zip lining, a walk to the natural spring and caves, village visits and school visits (remember to pack some extra pencils and school supplies to give to the local kids). There is also a complimentary daily return shuttle into Port Vila if you want to explore town, its markets and its restaurants.
Families who wish to can hire a nanny at an additional charge to accompany the family on an excursion or to provide one on one babysitting of an evening.
Aquana offers a really relaxing, easy holiday experience for families. The accommodation is comfortable. The fact that children can roam free under the watchful eye of a nanny, but return at any time to their parents, gives everyone peace of mind. The food is delicious, the kid's menu extensive and the adults' cocktails tropical and cold!
Devices will be put aside. Holiday friendships will be fostered. Parents will doze lazily on a sunlounge by the pool. And that pretty much sums it up!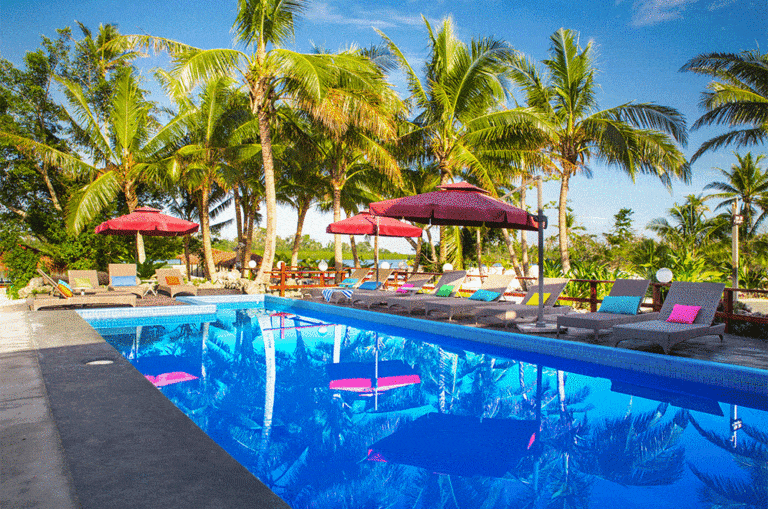 6 night Vanuatu package deal at one of Vanuatu's leading four star family friendly boutique resorts. The ideal holiday destination for the whole family!
See This Vanuatu Holiday Deal
Most frequent questions and answers
ESCAPE THE ORDINARY. GET A QUOTE FOR AQUANA BEACH RESORT
How to get to Aquana Beach Resort?
Aquana Beach Resort is located on Vanuatu's main island of Efate.  On arrival at Port Vila's Bauerfield Airport, you will be transferred by mini van to the resort.  Transfer time is approximately 30 minutes. 
See map below for exact island location.
GET A QUOTE FOR AQUANA BEACH RESORT
Love this Vanuatu resort? Share it with family & friends...