Rumours Luxury Villas
&

Spa Cook Islands
Catering to adults only, a holiday at Rumours is guaranteed to see you relax, rejuvenate and return time and time again.
Luxurious & romantic. The perfect escape.
When you walk through the doorway that leads to your private courtyard with its waterfall that cascades into your full size pool, you enter into a tranquil haven that will see you immediately relax into holiday mode. And as you continue into your luxury 1 or 2 bedroom/2 bedroom villa complete with super king canopied bed, Italian fixtures, indoor water feature, surround sound audio visual system, expresso machine and fully equipped kitchen you will immediately decide you never want to leave.
Location: Rarotonga. Accessed by vehicle from Rarotonga International Airport
7 air conditioned and fan cooled villas
No restaurants or bars located at the resort but plenty of dining options close by
Private swimming pools/spa pools in all Villas. Award winning Waterfall Spa available
TV's with over 400 DVD & CDs available
Wireless internet access available in all villas
Inclusions: Complimentary breakfast delivered to villa each morning with continental and self cook options
Max 4 people per villa
Honeymoon Bonus: 2 x 1 hour relaxation massages in the award winning Waterfall Spa facility (conditions apply) A
Children's Policy: Rumours does not accommodate guests under 15 years old
Rumours: The ultimate in luxury …
Set beachfront on Muri Lagoon, Rumours is home to 7 incredibly decadent, romantic villas and the multi award winning Waterfall Spa. Owner managed, the service and attention to detail are second to none.
Rumours Luxury Villas & Spa is located on Rarotonga in the beautiful Cook Islands. Getting to Rumours is easy! Vehicle transfer time is approximately fifteen minutes from Rarotonga International Airport. See map below for exact island location.
Latest deals for Rumours created by our Cook Islands experts
"Gorgeous location, peaceful and tranquil" – Tripadvisor.com
Rumours was a lovely choice for our visit to Rarotonga! The accommodations were beautiful and the staff went "above and beyond" to make our stay perfect! Every small attention to detail was taken to make Rumours a perfect choice for us.
Summary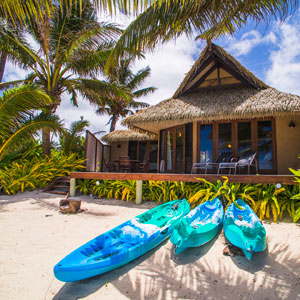 Rating
Resort Name
Rumours Luxury Villas & Spa
Holiday Package
Cook Islands Resort - Rarotonga