Sea Change Villas Cook Islands
Sea Change Villas is a romantic escape located in the beautiful Cook Islands. Stunning villas with private pools, secluded white sandy beach
&

complete relaxation. Bliss!
One of the Cook Islands' premium Villa retreats.
Luxurious accommodation, privacy and independent travel culminate in Sea Change Villas. The 9 luxury 1, 2 or 3 bedroom villas each feature their own private pool and courtyard, a home theatre system, kitchen, double shower and are furnished in a style that exudes tropical sophistication.
The Villas fall into two categories – Beachfront which has been built within metres of the high tide mark allowing guests to step straight from their deck to the sandy shoreline, and Lagoon View which are set among the tropical gardens with views from the deck of the aqua hues of the lagoon.
Location: Rarotonga, Cook Islands. Accessed by vehicle from Rarotonga International Airport
9 air conditioned and fan cooled villas
No restaurants or bars located at the resort but plenty of dining options close to the resort
Private pools in all villas. Massage facilities available
TV's in all villas
WiFi internet access available (charged)
Inclusions: Self catering breakfast pack in fridge on arrival (eggs, milk, juice, bread, cereals, butter & condiments)
Max 2 people in 1 Bedroom Villa. Max 4 people in 2 Bedroom Villa. Max 6 people in 3 Bedroom Villa
Honeymoon Bonus: N/A
Children's Policy: Sea Change does not accommodate guests under 12 years old
Sea Change Villas: Secluded Paradise …
Casually elegant and with every comfort you could want, a holiday at Sea Change Villas is sure to exceed your expectation.
Sea Change Villas is located on Rarotonga in the beautiful Cook Islands. Getting to Sea Change is easy! Vehicle transfer time is approximately fifteen minutes from Rarotonga International Airport. See map below for exact island location.
Latest deals for Sea Change created by our Cook Islands experts
"So perfect" – Tripadvisor.com
Amazing place! We are so happy we came here for our honeymoon. Our villa was so lovely & lounging by our private pool was wonderful. I loved the four poster bed with light curtains. Perfect view of the ocean across the street. We loved that the Sea Change Villa's bikes, kayaks, snorkel gear, water shoes & paddleboards are all available for guests to use anytime.
Summary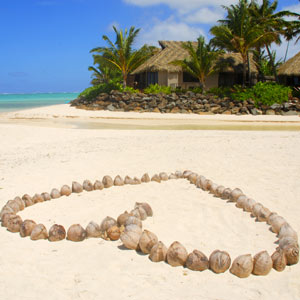 Rating
Resort Name
Holiday Package
Cook Islands Resort - Rarotonga