Sofitel Resort
&

Spa Fiji
The Sofitel Resort
&

Spa has it all. Contemporary hotel style resort, luxury 'Waitui Beach Club' for adults, Kids Club for the young ones

&

all in a convenient location close to the marina. There's a lot to love about the Sofitel.
The Sofitel facilities will exceed your expectations!
Located on 26 acres of ocean frontage, the Sofitel Fiji Resort & Spa offers its guests a contemporary hotel style resort experience with a relaxed 'Fiji' feel.
Resort facilities include award winning restaurants, one of the largest pools in the South Pacific, a Spa that features 60 signature treatments, an idyllic beachside wedding chapel and easy access to a wealth of recreational activities both on land and sea. The Sofitel juggles the couples and family market beautifully with well designed family rooms featuring bunks and PlayStations®, and the Turtle Kids Club to keep children occupied. Couples benefit from adult only dining options and a child free tranquillity zone located beachfront to relax in during the day.
Location: Denarau Island, Fiji
296 air conditioned hotel rooms/suites
4 restaurants and 3 bars
1 resort pool. Gym and Spa available
LCD TV in all rooms and suites and Bose docking stations in all luxury rooms and suites. PlayStations® in all family rooms
High speed broadband access in all rooms (charged)
Inclusions: Either room only or Champagne Breakfast inclusive rates available. Meal plan not available
Max 3 adults or 2 adults/2 children U12 years per room/suite
Honeymoon Bonus: Complimentary bottle of sparkling wine (min 2 night stay)
Children's Policy: Turtle Kids Club operates from 9am–9pm daily for children 2–12 years (charged at F$30 per child per day). Babysitting available (charged). Children U12 years eat free for breakfast and dinner in the Lagoon restaurant when dining with parents. Family friendly accommodation
Sofitel: Relaxed 'Fiji' feel …
The Sofitel is a hotel style resort best suited to couples and small families.  Conveniently located close to Denarau Marina and the Golf & Racquet Club it features well designed family rooms, Kids Club, adult only dining options, health spa and a great selection of restaurants.
Sofitel Resort & Spa is located on Denarau Island, Fiji. Denarau is an extremely popular mainland spot due to it's close proximity to Fiji's International Gateway Nadi and also the Marina, giving guests easy access to the islands. Getting to the Sofitel Resort & Spa is easy! Transfer time is approximately 20 minutes by vehicle from Nadi Airport. See map below for exact resort location.
Latest deals for the Sofitel created by our Fiji Island experts
"Relax & Recharge at Sofitel Resort & Spa" – Tripadvisor.com
Friendly, Helpful and Efficient Staff, catering for our every need, ensured our stay at Sofitel Fiji Resort & Spa was both Relaxing and Rejuvenating. We resorted to "Fiji Time" rapidly and nothing could dampen our stay, not even a day or 2 of rainy weather. We will definitely return to this serene location the next time we are in need of de-stressing and re-charging.
Summary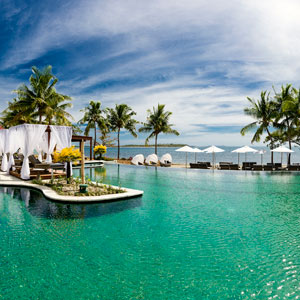 Rating
Resort Name
Holiday Package