Taveuni Palms Resort Fiji
The award winning Taveuni Palms is one of the most beautiful, relaxing and indulgent resorts you are likely to find.
Absolutely stunning!
Taveuni Palms Resort consists of only 2 luxury villas, each sitting on their own acre of absolute beachfront and boasting their own private pool, beach and contemporary furnishings. Each has a personal staff of seven, who are on call to provide you with wonderful food and wine, and indulge you in unsurpassed service and amenities whilst still affording ultimate privacy throughout your stay.
Location: Taveuni Island. 2 minutes drive from Matei Airport
2 individual air conditioned and fan cooled private villas (1 x 2 Bedroom and 1 x 3 Bedroom Horizon Pool)
5 dining locations per Villa with private chef
1 pool per Villa and a Jacuzzi in the 3 Bedroom Horizon Villa. Spa facilities available
LCD monitor, DVD, Bluetooth sound system and iPod dock per Villa
Complimentary WiFi in each Villa
Inclusions: All meals, selected non-alcoholic beverages, personal staff of 7, 1 hour massage treatment and bottle of Champagne on arrival, extensive activities and airport transfers
Max 4 people per 2 Bedroom Villa. Max 6 people in Horizon Villa
Honeymoon Bonus: 1 spa treatment per person
Children's Policy: Taveuni Palms welcomes families year round but does not offer a Kids Club. A complimentary nanny is offered for 8 hours per day for the duration of your stay. Family friendly accommodation
Taveuni Palms: Pure Paradise …
Being located on Taveuni – an island steeped in natural beauty – there's activities abound including incredible diving and snorkelling, rainforest and coastal hikes, a variety of water sports, fishing, mountain bikes, horse riding and a refreshing swim in the magnificent Bouma Waterfalls. Teamed with the very competitively priced Spa menu, a holiday at Taveuni Palms is sure to top your list of favourites.
Taveuni Palms Resort is located on the beautiful island of Taveuni in the northern part of Fiji. Getting to Taveuni is easy and fun! Just a 2 minute vehicle transfer from Taveuni's Matei Airport. See map below for exact island location.
Latest deals for Taveuni Palms created by our Fiji Island experts
"Simply the Best" – Tripadvisor.com
We stayed for 10 nights, which felt like one month & not wanting to leave. From the moment we arrived it was perfect in every detail. The villa was beautiful & the view & gardens simply amazing. The staff go the extra mile in everything they do & get the balance right between service, attention to detail, knowing what you would like and not like & balancing all of that with privacy.
Summary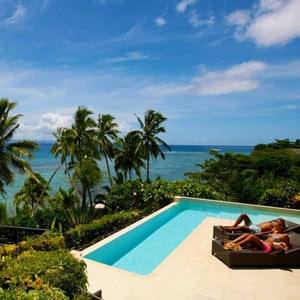 Rating
Resort Name
Taveuni Palms Resort Fiji
Holiday Package