Relish the time spent indulging in luxury on Rarotonga's famous Muri Beach
It's hard to pinpoint my one favourite thing about Nautilus, but my daily Spa Treatments would certainly be up there!
One of the Cook Island's premier luxury boutique resorts
With its spacious 1 - 3 Bedroom Are', Nautilus Resort is a haven for both couples and families alike
Privately owned and eco friendly
 Nautilus Resort continues to garner popularity as one of the Cook Island's most luxurious resorts. It's 17 Polynesian Are' are located on the hugely popular (and extremely beautiful) Muri Beach, each featuring 1, 2 or 3 bedrooms, with their own saltwater plunge pool, large private outdoor furnished deck (including dining zone) and well appointed, elegant interior design. All 1 bedroom Are' feature a mini kitchenette, while the 2 – 3 bedroom Are' have a full kitchen with espresso pod coffee machine, state of the art entertainment and access to high-speed WiFi. 
Families are very welcome at Nautilus Resort
With family friendly accommodation, and a 'Kids Concierge' that offers a daily program of educational and culture activities to children 5 -12 years, Nautilus lends itself beautifully to discerning multi-generational family travel.
Regardless of age, there is much to be done at, or around Nautilus.  Enjoy the resort's complimentary non-motorised activites including stand-up paddle boarding, snorkeling, reef walking or kayaks over to explore Ta'akoka island.  Or if you can bear to leave the resort, head out for the day to explore some of the Cook Island's many fabulous day tours and markets.
'Indulgence' in so many ways
Beachfront dining at the renowned Nautilus Restaurant is a pleasure, with fresh Polynesian inspired dishes predominately using their own organic produce and locally sourced ingredients. The multi award winning Thalgo branded Spa rejuvenates with a combination of professional and local treatments that include relaxing massages, healing hot stone therapies and pampering body rituals.
In 2019, Nautilus Resort was certified as 'Mana Tiaki' (Cook Islands Eco Certified), a badge it proudly wears based on its dedication to providing a luxurious holiday experience with ecological authenticity.  
Nautilus offers its guests the best of both worlds – the luxury of private plunge pool villa accommodation with the convenience of a full service boutique resort.   And when you throw in its stunning beachfront location, you wonder why it took you so long to discover it!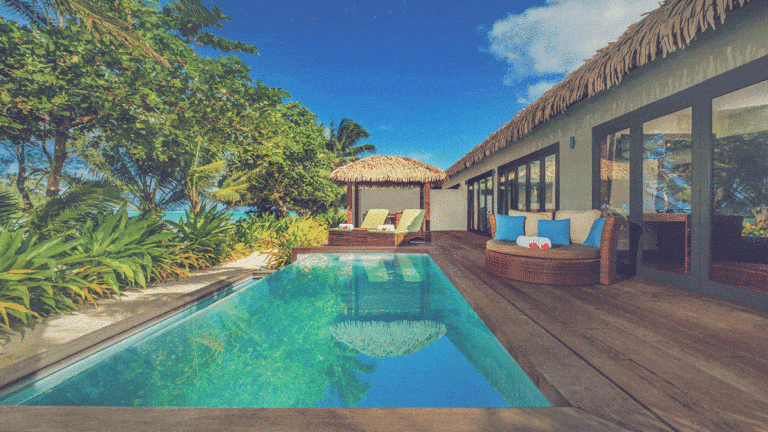 Nautilus Resort Luxury Escape in the heart of popular Muri Beach. Six (6) nights in Rarotonga Includes Daily Tropical Breakfast Includes Private Plunge Pool See
>> SEE NAUTILUS LATEST DEAL
Most frequent questions and answers
ESCAPE THE ORDINARY. GET A QUOTE FOR NAUTILUS RESORT
How to get to Nautilus Resort?
Nautilus is a 30 minute drive from Rarotonga's International Airport. Transfers are organized through the resort and are in a private minivan.
See map below for exact island location.
ESCAPE THE ORDINARY. GET A QUOTE FOR NAUTILUS RESORT
Love this Cook Islands resort? Share it with family & friends...