VOTED THE HOTTEST DESTINATION OUT THERE
Love the simplicity of island life
If you're looking for an authentic island escape, then the Cook Islands is for you. Made up of 15 islands flanked by white sandy beaches and wrapped in pristine turquoise waters, the Cook Islands are just begging to be explored. Known as the home of the world's best beach and touted as the Hottest Destination pick for 2015 as voted by the Sydney Morning Herald and The Age, come and discover the magnificence of this perfect island paradise for yourself.
Never been to The Cook Islands before? Here's a quick travel snapshot...
The island of Rarotonga is the vibrant hub of the Cook Islands. Rarotonga is a unique island getaway because you are not resort bound. With a sparkling turquoise lagoon, emerald green mountains, 50+ cafes and restaurants, a vibrant nightlife, and bustling markets, Rarotonga offers holidaymakers no shortage of things to see and do.
Feel the rush of endorphins as you conquer the peak of our volcanic cone on a guided tour with Pa. Scuba dive or snorkel in incredibly clear lagoons to see giant turtles, colourful fish and corals. There are no nasty stingers in the water at any time of year either. Wander back from the sandy white beach to your resort and enjoy a pamper session at one of the award-winning spas. From 4WD tours to art galleries and cultural centres, you can do as much or as little as you want. You also have the freedom of jumping on a scooter or our bus to explore the island at your leisure – you'll feel like you're in one big resort.
The Cook Islands are a rare beauty. Here you will find no traffic lights, no international chain hotels and no McDonalds, in fact you won't find a building taller than a coconut tree. Mix'n'mingle with the friendly Polynesian locals, see their amazing drumming and dancing at a cultural show, join the congregation at church on Sunday or chat at the markets and roadside stalls. The Cook Islands are as enchanting as her people are captivating.Venture further north to the achingly beautiful Aitutaki, the second most visited island in the Cook Islands. Aitutaki is a magnet for honeymooners and those travellers seeking a private escape. Be awed by the gentle lapping of waves on the pristine white sand; drink in hand at the magic sunset hour at your beachside boutique accommodation. Explore the crystal clear water and uninhabited motu (islets), which fringe the stunning lagoon by kayak and moor yourself to a white sandy beach that you can have all to yourself. Secluded and romantic, you can look forward to leisurely days and jaw-dropping scenery on Aitutaki.
Top-selling Cook Islands resorts this week
A mix of luxury and boutique resorts offering great Cook Islands travel deals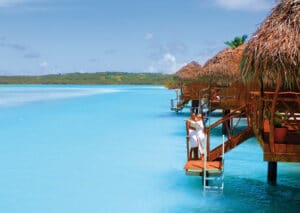 Too many Cooks? Never! We have combined two of the Cook Islands fabulous resorts together for (7) nights, creating a luxury tropical escape.
Read More »
Wanting to review more resorts?
SEARCH ALL RESORTS CHOSEN BY OUR ISLAND EXPERTS . TRIED AND TESTED!