Serene. Secluded. Striking.
Savasi is very unexpected. Its so naturally raw and beautiful that you are immediately relaxed and drawn into that wonderfully peaceful holiday rhythm.
Savasi Island is a haven of privacy and indulgence
Located in a terrain that is as extraordinary as it is ancient
Savasi's 12 luxurious villas are scattered across one of the most geographically diverse private islands in Fiji
Located a 15 minute drive from Savusavu Airport, Savasi Island is attached to the mainland by a wooden causeway. When you cross this little wooden path however, you enter a landscape unlike any other. Sculptural limestone outcrops and volcanic crevasses are strewn throughout the property which is laden with tropical forest and ancient banyan trees, and ringed by a fine golden sand beach that fringes the turquoise bay.
Dotted around its perimeter are the luxurious waterfront Villas, each elevated on a volcanic uplift to provide million dollar views and privacy. Every Villa is unique. Featuring between 1 – 3 bedrooms they are individually designed with contemporary tropical décor. 11 Villas have the added luxury of a private plunge pool. Whilst each is available for separate rental, some are located in a small compound environment that is perfect for a group of friends or for an extended family who want the flexibility of time spent together with the privacy offered by their own accommodation.
Then there is a schooner called 'Serenity'
For a totally unique experience, guests can stay aboard Serenity – a stunning 140 ft 3 masted schooner moored permanently at Savasi's Marina. Lavishly restored, its 5 luxury staterooms span 2 levels and guests enjoy all of Savasi's activities and facilities. Whilst the staterooms are available for individual hire, it is the perfect choice for small groups of 10 looking for a holiday like no other.
Activities aplenty
The island of Vanua Levu is rich with opportunities for the active. Dive some of Fiji's most famous reefs. Kayak down the Qaloqalo River to a remote salt lake. Swim under the Vuadomo Waterfall. Hike. Fish. Spearfish. Snorkel. Take a cooking class. Visit the pearl farm. Sing with the locals at Church on Sunday. Do yoga at sunrise. Visit the village. Haggle at the local fresh food markets. Rejuvenate with a Spa treatment.
Savasi's nightly rate is meal inclusive and particular attention is paid to providing gourmet dishes with a blend of local and international cuisines created using the freshest of local ingredients. Guests are invited enjoy their nightly dinner in a different location. There is of course, their Reef Dining Room, but also a secluded cavern by the sea, a private beachside setting by moonlight or dinner bought to your own Villa.
And children?
The good news is yes – children of all ages are welcome in the Villas at Savasi. However, due to the volcanic terrain children must be supervised at all times and therefore, it is better suited to children 10 years +. Alternatively guests can hire a nanny for the duration of their stay to assist with younger children. Unfortunately, children are not welcome to stay aboard Serenity.
When you cross that bridge onto Savasi, you enter a stunning location that is unlike any other in Fiji. When you team this with spacious accommodation, wonderful staff , a myriad of activities and a peaceful sense of place, it's little wonder anyone ever leaves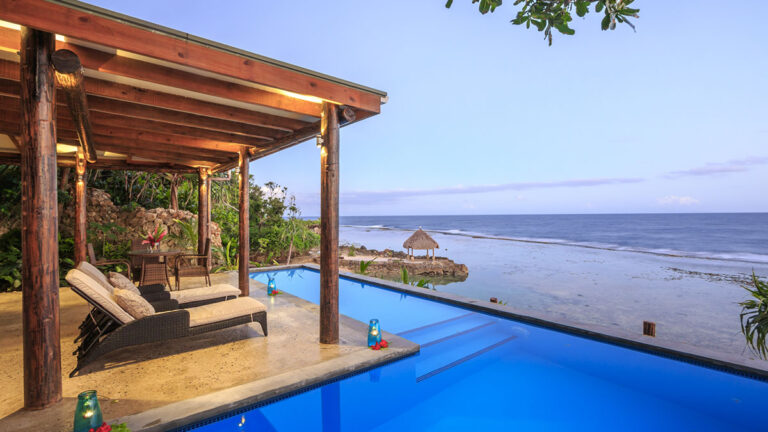 Private Villas set in a truly pristine region of Fiji. All Meals , One Free Night plus flights to Fiji from $3,585
>> SEE SAVASI'S LATEST DEAL
Most frequent questions and answers
ESCAPE THE ORDINARY. GET A QUOTE FOR SAVASI ISLAND
How to get to Savasi Island?
Savasi Island is located on an island off Vanua Levu, Fiji's second largest island. Fiji Link fly daily from Nadi Airport to Savusavu (approx 1 hour flight).  You will be met on arrival by a representative from Savasi and transferred by mini van to the Island (approx 15 minute drive).  The island is attached to the mainland by causeway.
 See map below for exact island location.
ESCAPE THE ORDINARY. GET A QUOTE FOR SAVASI ISLAND
Love this Fiji resort? Share it with family & friends...