The Rarotongan Beach Resort
&

Lagoonarium, Cook Islands
The Rarotongan Beach Resort sits on the edge of the Aro'a Lagoon Marine Reserve, one of the world's best off-beach snorkelling spots. With this beautiful location plus a fabulous kids club
&

loads of activities, The Rarotongan is the perfect family getway!
Affordable 'all round' resort.
In a country of predominately smaller, more boutique resorts The Rarotongan Beach Resort & Spa (or the Rarotongan as it is widely known) stands proudly as one of the 'big guys'.  With 109 guest rooms and suites that accommodate families of various configurations, this full service resort is set amongst 6 acres of landscaped gardens, fringed by a kilometer of prime Beachfront.
Attracting a strong family clientele, the Rarotongan operates one of the Cook Islands' most comprehensive kids facilities including the Banana Beach Playland Creche for toddlers 0 – 4 years from Monday – Saturday (@  N$45 per 2 – 3 hour session); Moko's Kids Club – a complimentary Kids Club for children aged 4 – 11 years which again operates Monday – Saturday from 9 am – 12pm, 2 pm – 5pm and 7pm – 9pm and includes free snacks and drinks with each session; and finally the Teen Zone – a complimentary program for children aged 12 – 16 years which encourages teens into age appropriate activities to not only keep them occupied but allowing them to mingle with similarly aged in house guests.
A variety of restaurants, an indulgent day Spa, an extensive array of guest activities and a simply beautiful beach location make this the perfect, affordable 'all round' resort that is sure to appeal to families of all shapes and sizes.   Click here for a Virtual Tour of the resort.
Location: Rarotonga, Cook Islands. Accessed by vehicle from Rarotonga International Airport
110 air conditioned and fan cooled rooms, suites, bungalows & villas
2 restaurants and 1 bar
2 pools. Gym & Spa available
TV's in all guest rooms
WiFi internet access available (charges apply)
Inclusions: Tropical Breakfast
Max 2 adults/2 kids in Garden & Beachfront Rooms. Max 2 adults/4 kids in Beachfront Suite, 2 Bedroom Suite & Honeymoon Bungalow. Max 2 adults/6 kids in Grand Beachfront Suite. Max 4 adults/6 kids in Villa
Honeymoon Bonus: Bottle of chilled New Zealand Wine + His & Hers Island Pareus (min stay 5 nights and proof of marriage at time of check in required)
Children's Policy: Complimentary Moko Kids Club operates daily (except public holidays) for children aged 4 – 11 years inclusive from 9am – 12pm, 2 pm – 5 pm & 7pm – 9pm.  Includes free snacks & drinks during the sessions and a free Fun Welcome Pack per child on arrival. The Little Dolphin's Mini Waterpark operates as part of the Moko Kids Club programme. Banana Beach Playland Baby Creche operates for children 0 – 3 years old (charges apply). Teen Zone is a separate club house for teens aged 12 – 16 years (free entry). Charges for some activities may apply
The Rarotongan: Dream family escape …
Offering direct access to the Aroa Lagoon Marine Reserve the Rarotongan allows guests the privilege of snorkeling at any tide amidst schools of jewel coloured reef fish, with night snorkeling available to those who are inclined.
The Rarotongan Beach Resort is located on the island of Rarotonga in the beautiful Cook Islands. Getting to The Rarotongan is easy! Vehicle transfer time is approximately ten minutes from Rarotonga International Airport. See map below for exact island location.
Latest deals for The Rarotongan created by our Cook Island experts
"Relaxing, just what we needed" – Tripadvisor.com
It was a top spot to sit back relax & do very little with the staff catering to our every need even beach side. This is what the pacific islands & Cook Islands is about.
Summary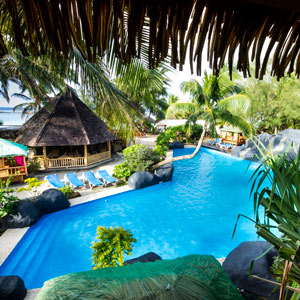 Rating
Resort Name
The Rarotongan Beach Resort & Spa
Holiday Package
Cook Islands Resort - Rarotonga