Sinalei Reef Resort & Spa
A tranquil paradise that embodies everything we love about Samoa
Staying at Sinalei is as warm and embracing as when you visit your favourite relatives….but with much better food, accommodation and cocktails!
Raw, natural beauty. Boutique luxury. Community. Tradition.
Sinalei is the haven that all romantic couples seek
Where the Rainforest meets the Reef
Set on 44 coastal acres, Sinalei Reef Resort & Spa is a stunning property built, owned and operated by one of Samoa's most well-known local families. Its 29 spacious Villas are nestled into its beautifully maintained, verdant tropical gardens, abutting the vibrant aqua lagoon. Featuring either garden, ocean or absolute beachfront views, each fuse authentic Samoan architecture with charming décor and quality amenities, to create an enticing retreat for adults (13 years +).
Sinalei is a place where enjoying life's simple pleasures restores balance
If it is activities you seek, your days will brim with opportunities to enjoy golf (nine hole resort course), surfing, diving, tennis, kayaking, fishing, snorkelling or bespoke crafted tours that invite you to delve into this countries rich culture. And for those wanting less taxing pursuits, an afternoon spent in the Resort's Spa will undoubtedly prove to be one of the most rewarding of your holiday. A Ginger Mojito served at sunset at Harry's Bar, will however, run a very close second.
Guided by the philosophy of fresh, local and healthy, dining at Sinalei is a pleasure. As well as private dining locations, the resort features 2 restaurants serving contemporary Samoan Cuisine with a side of international flair. With a focus on 'farm and ocean to plate' they work closely with local farmers and suppliers to guarantee variety and sustainability.
Rejuvenation the Samoan Way
This luxury boutique resort is fiercely proud of its Samoan heritage, its community and its people. This is a country, and a property, that is steeped in tradition, culture, love and respect and the result is a unique holiday experience that is simultaneously as relaxing as it is enriching.
Dedicated to community ventures and environmental sustainability, your time at Sinalei will leave you recharged…and planning your next visit to this beautiful little resort.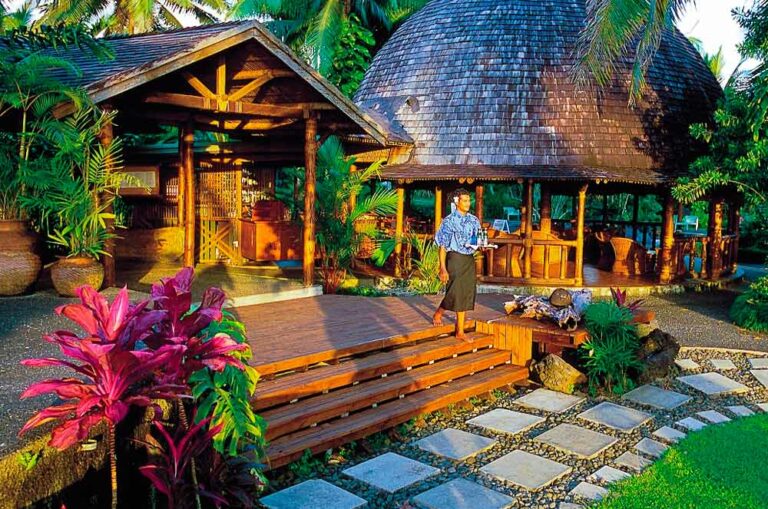 Sinalei Reef Resort & Spa Deal Upolu's most luxurious resort Includes Daily Tropical Breakfast Including Flights to Samoa See all package deal inclusions 6 night
>> SEE SINALEI'S LATEST DEAL
Most frequent questions and answers
ESCAPE THE ORDINARY. GET A QUOTE FOR SINALEI REEF RESORT & SPA
How to get to Sinalei Reef Resort & Spa, Samoa?
Sinalei Reef Resort & Spa is located at Siumu on Upolu's south coast.
It is a 45 minute minivan transfer from Faleolo Airport, and this will be included in your Island Escapes package.
GET A QUOTE FOR SINALEI REEF RESORT & SPA
Like this Samoa Resort? Share it with family and friends.