Iririki Island Resort & Spa
An island paradise just 500 metres from the centre of Port Vila
At least once during your stay at Iririki, make sure you do the Sunset Champagne cruise. Its a great way to make new friends and then there is that view....wow!
Iririki Island Resort & Spa offers guests the seclusion of a private island, with the convenience of a mainland location
A popular choice for couples and families wanting an easy Pacific escape
There is an accommodation category to suit everyone at Iririki
Iririki Island Resort's 131 accommodations fall into 2 main categories. Firstly there are 'traditional' freestanding Fares (bungalows) which come in a variety of standards to suit all budgets. From Island Fares located within the resort's lush tropical gardens, to its iconic Premium Overwater Fares, these are thatched structures featuring vaulted ceilings, timber floors, plantation shutters and private balconies but with the amenities befitting a modern resort. Whilst most popular with couples, families are not overlooked in this category with a limited number of Deluxe Family Fares available for up to 5 people, and 2 Bedroom Deluxe Villas accommodating up to 6 people.
Then there is the more contemporary Apartment style accommodation, each with separate living areas, kitchenettes, private balconies (with outdoor spa baths) and either fabulous ocean views (Deluxe Ocean View) or views over the resort's family pool (Deluxe Pool View). Due to its location, the latter is most popular with families who likewise enjoy the convenience of the Kids Club, gym, playground and tennis courts, all located nearby.
This is a full service resort
Iririki's extensive resort facilities include 4 restaurants and bars (including a swim up bar), an adult only pool and a dedicated family and children's pool, Day Spa, gym, tennis courts, games room and Kids Club.  There is even an inhouse Casino for those who fancy a holiday flutter. Guests can enjoy the complimentary use of snorkelling gear, kayaks and catamarans. Bikes are available to explore the islands 69 acres.
The best of both worlds
Iririki is one of Vanuatu's most popular and iconic holiday destinations. Accessed by a 24 hour ferry that operates the 5 minute journey on demand, its real strength lies in its accessibility to local markets, Vila's shopping strip and myriad of quality local restaurants, and day trips, whilst offering the seclusion and tranquility of a private island holiday.
It's an 'easy' choice for people who want an island resort experience, but in a city centre location. Where else in the world??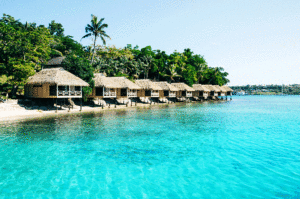 6 night Vanuatu holiday package deal @ Iririki Island Resort & Spa. Includes breakfast daily and transfers in Vanuatu.
See This Vanuatu Deal »
Most frequent questions and answers
ESCAPE THE ORDINARY. GET A QUOTE FOR IRIRIKI ISLAND RESORT & SPA
How to get to Iririki Island Resort & Spa Vanuatu?
Iririki Island Resort & Spa is accessed via 24 hour ferry  from Port Vila town centre (next to the Grand Hotel & Casino).  Guests arriving into Port Vila's Bauerfield Airport will be transferred by mini bus to the Harbour (approx 15 minutes drive).  Transfers will be included in your Island Escapes package.  
See map below for exact island location.
GET A QUOTE FOR IRIRIKI ISLAND RESORT
Love this Vanuatu resort? Share it with family & friends...