A relaxing boutique private island experience
Aore Island Resort is the perfect resort choice when you need to stop, relax and refocus on the things that matter. No distractions. No devices. Just a holiday.
Conveniently located only 10 minutes by boat from Luganville
Aore Island Resort offers its guests the best of both worlds. A remote island paradise and easy access to Espiritu Santo's many attractions
Family owned and operated, guests at Aore are immediately embraced by its familial warmth
There is something very welcoming about Aore (pronounced Ow-Ree). Its 18 Studio and One Bedroom Bungalows (garden and beach front) are spacious and comfortable. Constructed from locally sourced timbers with a Natangora Roof and Pacific influenced décor, they feel authentic and traditional, whilst offering the amenities required for a contemporary holiday. Studio Bungalows are suitable for adults only. One Bedroom Bungalows feature a living area with 2 single beds and a queen size bed in a separate room, making them ideal for families wanting to enjoy this wonderful island experience.
The Island is yours to explore
Santo is renowned for its underwater pursuits, and Aore guests are spoilt for choice when it comes to snorkelling, with a private marine sanctuary directly offshore to discover at your leisure, or excursions to reefs further afield. Above the water, guests can hike to WWII remnants, circumnavigate the Island in a kayak, while away a tranquil hour on a Stand Up Paddleboard, or they can cycle the coastal road to find a remote beach for a swim. Kids can swing off ropes into the ocean (remember when we used to do that….) or spend hours in the resort pool. There is a Day Spa for the adults and of course, there is the standard island holiday pursuit….doing as little as possible for the longest possible period.
Want to wander further?
It's close proximity to the mainland allows you to easily explore the wonders this region offers. Swim in the iridescent waters of Champagne Beach. Explore World War II relics. Discover stunning Blue Holes. Dive the famous SS President Coolidge Wreck. Visit a local village and learn traditional customs. Take the unforgettable Millenium Cave Tour. All tours can be easily organised from the resort to suit your itinerary (and your energy levels).
Aore Island Resort offers its guests the opportunity to relax and rejuvenate in picturesque surrounds. It's warm, laid back, casual atmosphere allows you to enjoy the company of loved ones without distraction. It's life at its most simple. Where days are as full, or empty, as you want them to be. No demands. No stress. Just enjoyment. Just as holidays should be.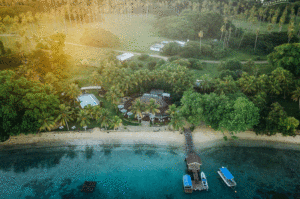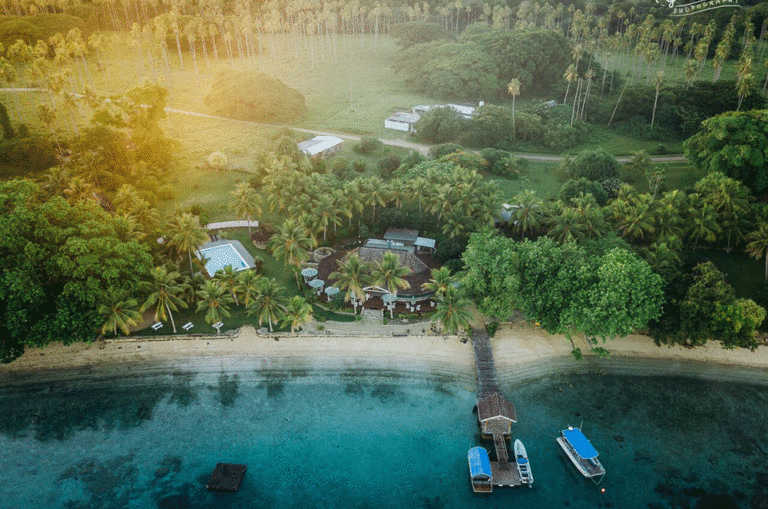 Most frequent questions and answers
ESCAPE THE ORDINARY. GET A QUOTE FOR AORE ISLAND RESORT
How to get to Aore Island Resort?
Aore Island Resort is located on a small island off Espiritu Santo in Vanuatu. Getting to Aore is easy! Just a ten minute vehicle transfer from Espiritu Santo Airport, then connect to a speed boat transfer for approximately ten minutes straight to the island. See map below for exact island location.
GET A QUOTE FOR AORE ISLAND RESORT
Love this Vanuatu resort? Share it with family & friends...