A resort where luxury and romance are abundant
When you holiday at The Havannah, you know you are somewhere special. You feel 'privileged'. The view, the beach, the food, the staff, your accommodation - it all exceeds your holiday expectations.
Multi award-winning and widely considered one of Vanuatu's premier boutique resorts
The Havannah Vanuatu is quite simply, stunning!
Located on the shores of one of Efate's most beautiful beaches 
35 minutes from Port Vila, The Havannah's 17 freestanding Villas are contemporary in their design and luxurious in their appointment. Catering exclusively for adult couples, each offers an enticing combination of style and comfort.  Some feature a private infinity plunge pool while others have their own private access to a shared lagoon pool. Regardless of type, each Villa has its own outdoor dining pavilion and sheltered day bed where you can relax into an afternoon nap, lulled to sleep by the gentle warm  breeze.
The Point Restaurant
Regarded as one of Vanuatu's finest eateries, it is the perfect place to indulge and experience sumptuous gourmet cuisine that focuses on Vanuatu's many organic products and fresh seafoods. With all meals included in the nightly rate, couples may choose to dine here or enjoy an intimate romantic dinner in a variety of private locations scattered around the resort grounds.
If you can bear to leave your Villa
There are activities aplenty on offer. Enjoy a game of tennis, go kayaking, cycling, snorkelling, sailing, stand up paddleboarding, or dive enthusiasts can explore the live coral and many fish varieties of the Havannah Harbour, including the elusive Dugong. Or if you'd rather stay above water, enjoy the complimentary sunset cruise with a glass of champagne or an afternoon of pampering in the Day Spa.
Travelling with a conscience
As a member of National Geographics's Unique Lodges of the World, the resort is strongly committed to community and conservations issues which is yet another reason why The Havannah is considered one of Vanuatu's best boutique resorts.  It is the perfect choice for discerning couples looking for a romantic escape.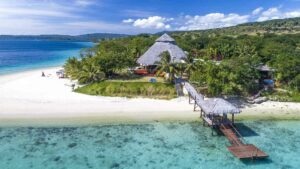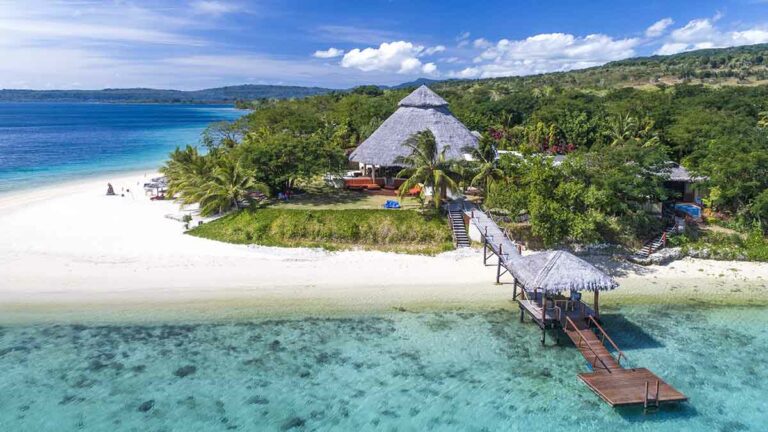 6 night Vanuatu holiday package deal @ The Havannah. Breathtaking beachfront location & luxurious comfort. The perfect combo for a couples only resort. Leave the kids at home.
See This Vanuatu Deal »
ESCAPE THE ORDINARY. GET A QUOTE FOR THE HAVANNAH VANUATU
How to get to The Havannah Vanuatu?
The Havannah is located at Samoa Point, a 35 minute drive from Port Vila Airport.  Airport transfers in the resort's mini van, are complimentary and are included in your Island Escapes package.  See map below for exact island location.
GET A QUOTE FOR THE HAVANNAH VANUATU.
Love this Vanuatu resort? Share it with family & friends...