Remote & truly stunning this is a seriously luxurious experience.
A retreat for families and haven for couples, Kokomo Island is all about barefoot luxury.
Family owned and designed for indulgence.
A luxurious labour of love located on a private island that is as remote as it is stunning – its verdant gardens rising proudly from Kadavu's pristine, turquoise ocean.
Kokomo's design amalgamates the best parts of the owner's favourite resorts from around the world.  It delicately balances the privacy desired by couples and the facilities required to satisfy the needs of multi-generational families.  
Every detail is world-class magnificence you can feel good about, because this private island resort is as sustainable as it is luxurious. Extravagantly spacious 1–3 Bedroom Beachfront Pool Villas line the Island's fine white sand fringe, traditional in their design but lavish in their appointment and décor. Five opulent Hilltop 3–6 Bedroom Pool Residences feature contemporary 'Hampton's style' interiors and afford the most spectacular views over the surrounding islands.
All Meal inclusive, there are three restaurants/bars to choose from, a decadent Day Spa, a fitness centre that offers personal training, yoga and pilates, an expansive Kids Club and an extensive range of water based activities that benefit tremendously from its ideal location adjacent to Fiji's famous Great Astrolabe Reef.
Setting a new standard in Fijian cuisine
Embracing the 'farm to table' concept, Kokomo boasts a 5.5 acre (2.2 hectare) farm that practices organic methodologies, growing a wide variety of local vegetables, herbs, sprouts, edible flowers and fruits. Beachfront, poolside, destination and in-villa dining is available from sunrise to sunset. All menus are updated daily and champion Fiji's seasonal, flavoursome produce. Kokomo's chefs will  prepare a private dinner or picnic based on your favourite foods, to be enjoyed at one of the many breathtaking locations around the island or surrounding, uninhabited islands.
Activities for everyone
Lush and secluded, Kokomo is a tropical paradise that ticks all the boxes. Your Private Island retreat has every foreseeable land adventure and water based activity covered; and the activities staff infinite breadth of experiences are designed specifically for you to create your ultimate stay, your way. So go on, do as much, or as little as you like.
For quality family time together, Kokomo offers a myriad of experiences the whole family can enjoy; from the resort pool to tennis, basketball, beach games, countless water based activities and daily excursions.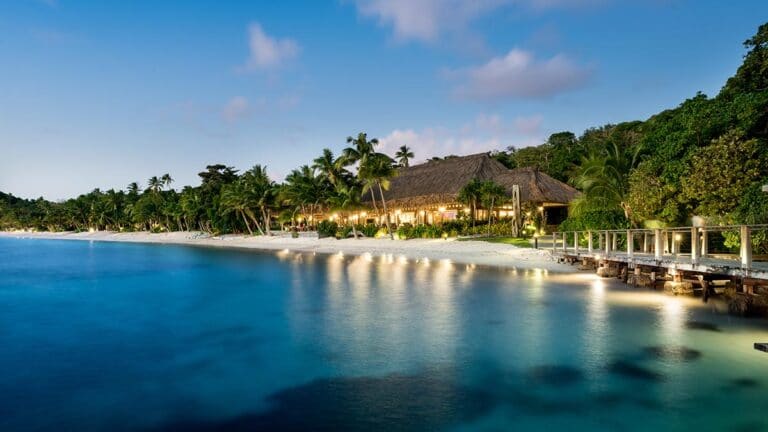 Kokomo Private Island 6 star luxury in Fiji All Meals for all the family One Free Night Includes Flights to Fiji See all package deal
>> SEE KOKOMO'S LATEST DEAL
ESCAPE THE ORDINARY. GET A QUOTE FOR KOKOMO
How to get to Kokomo Private Island, Fiji?
Journey to Kokomo Private Island in their private Twin Otter Seaplane or helicopter. Located just 45 minutes flight from Nadi International Airport or 25 minutes south of Suva, the transit between the mainland and Kokomo offers sweeping views of crystal clear water and powder fine stretches of sand. It's a breathtaking starter of what's to come.
Guests arriving and departing from Nadi International Airport are encouraged to use the new private luxury transfer lounge. Designed to provide a seamless experience while transferring to and from Kokomo Private Island, guests can enjoy refreshments, entertainment, a playroom for families, and shower facilities.
ESCAPE THE ORDINARY. GET A QUOTE FOR KOKOMO
Love this Fiji resort? Share it with family & friends...