Private Beachfront Residences
The best of both worlds: A private beachfront holiday house while still being able to access all-inclusive meals and resort facilities.
Welcome to understated luxury !
Nestled within an expansive resort in Fiji's Mamanuca group of islands reside six (6) beautifully designed luxury beachfront holiday homes – far enough away from the main resort common areas to enjoy seclusion without missing a moment of what Vomo Island Fiji has to offer for a memorable holiday.
Lavish 3 and 4 Bedroom Residences, each with their own pool, ideally suited to larger families or friends travelling together. Private, spacious and very indulgent.
These Fijian-inspired homes are perfect for large family reunions, group bookings or for couples who love their luxury, space and privacy. They offer accommodation for up to eight guests at a time all with private pools and outdoor sanctuaries steps away from Vomo's beachfront. 
It's not until you arrive, greeted by your butler, where you appreciate the expanse and sheer indulgence of these incredible holiday homes.
Plus enjoy all the resort facilities of Vomo Island Resort.
Vomo opened its new adults only sophisticated Beach Club adjacent to the existing Rocks Bar, featuring an expansive pool and chic lounge area, where cool cocktails temper lazy, warm afternoons and casual, fresh dining is accompanied by one of the best views in Fiji. Food is, of course, an integral part of any holiday and on Vomo it is given enormous attention. The result is a standard of cuisine normally found in fine restaurants, made from garden fresh local and imported ingredients.

Only 12 minutes by air from Nadi Airport, it features a nine hole par three golf course, flood lit tennis court, well equipped gym, decadent Spa, state of the art PADI Dive Centre and a myriad of water sports. This is a truly beautiful resort that epitomises the phrase 'relaxed luxury'.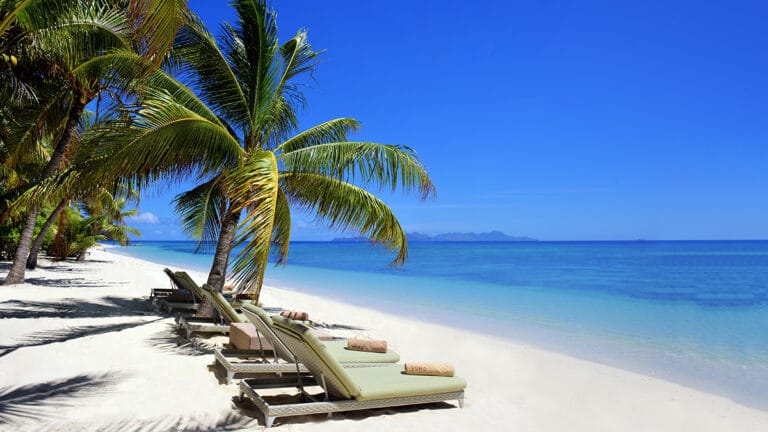 Luxury Fiji Pure Beachfront Bliss from $3,835 ALL Meals daily One FREE night Includes Flights to Fiji See all the inclusions 5 night Fiji holiday
>> SEE VOMO'S LATEST DEAL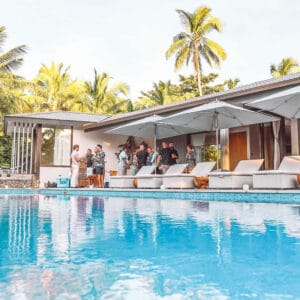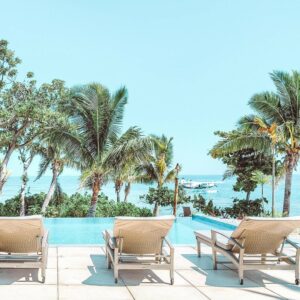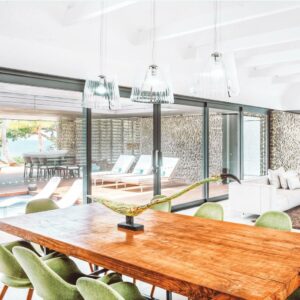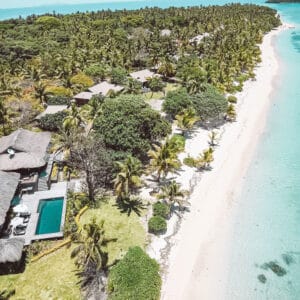 ESCAPE THE ORDINARY. GET A QUOTE FOR VOMO ISLAND
How to get to Vomo Island, Fiji?
Vomo is located in the very popular island resort area known as the Mamanuca Group of islands. The Mamanucas are popular due to their close proximity to the mainland of Fiji, Viti Levu. Getting to Vomo is easy just 15 minutes by air or just over 30 minutes by boat from the mainland.!   VOMO operate fast speedboat transfers on charter basis, between Vuda Point Marina and Vomo Island or vice versa. Vuda Point Marina is located just 20 minutes drive from Nadi International Airport. The comfortable and fast boat ride takes approximately 35 minutes to VOMO, enabling guests to be on the island in around an hour after departing the airport. An air-conditioned catamaran service also departs Denarau Marina to Vomo or vice versa once a day. Alternative transfer options include water taxi and private launch. Want to arrive a little quicker? Vomo is accessible by a quick 15 minutes seaplane or helicopter ride. See map below for exact island location.
ESCAPE THE ORDINARY. GET A QUOTE FOR VOMO ISLAND
Love this Fiji resort? Share it with family & friends...