Nanuku Auberge Resort Fiji
Nanuku is a luxurious resort located on Fiji's mainland. Beautiful ocean views, stunning villas, delicious cuisine
&

complete relaxation. This is one resort that must be experienced.
Fiji's newest luxurious getaway.
Nanuku is the newest addition to Fiji's luxury resorts. Located beachfront at Pacific Harbour (2.5 hours drive from Nadi Airport) this all villa boutique resort pleases on a number of levels. Firstly there is the expansive accommodation that is stylishly decorated and luxuriously appointed. Each beachfront residence is comprised of two villas – the Grand Villa (master bedroom upstairs and the second bedroom is a separate beach bure) with its private plunge pool and hot tub, and the Duplex Villa (two separate villas one upstairs and the other downstairs) again featuring its own pool.   Alternatively, Vunikau Residence offers four separate suites – the premium Vunikau Penthouse and three additional Vunikau Suites with private balconies and some with plunge pools.
You will love everything about Nanuku.
Secondly, there is the gourmet cuisine which is inclusive in the nightly tariff. Daily changing menus offer 3 courses of delightful food created using the freshest ingredients and enjoyed in a variety of dining settings. Then there are the plethora of activities available at both the resort and in the surrounding region – Lomana Spa, a gym, Golf Course, shark diving, cycling, zip lining, visits to Nanuku's very own island and surfing – that are sure to keep the most active of all ages, entertained.
The ultimate in relaxation.
But what truly sets Nanuku apart are its intangible qualities – the sense of true relaxation that washes over you as you ensconce yourself into its quiet daily rhythm. The genuine warmth and hospitality extended to you by the staff as they welcome you into their home and care for you as they would an adored relative. The opportunity to not only bear witness to their ancient culture, but to participate with respectful grace. Days simply disappear amid precious hours spent with loved ones enjoying all that this fabulous resort offers.
With such a variety of accommodation options and so much to do, Nanuku is the perfect choice for large, multi generational families or small groups of friends travelling together. Read our Island Expert review of Nanuku.
Location: Viti Levu, Fiji. Accessed by vehicle transfer from Nadi Airport
4 Suites, 5 Duplex Villas & 5 Grand Villas, all airconditioned and fan cooled
1 restaurant and 1 bar
1 resort pool at the Club House. All Villas have private pools & 1 of the Suites has a plunge pool. Gym (with complimentary personal trainer) & Spa available
TV, iPod Dock, DVD & CD Players available in all rooms
Complimentary WiFi internet access available throughout the resort
Inclusions: All meals & non-alcoholic beverages
Max 2 people in Suites, max 8 people in Duplex Villa & max 9 people in Grand Villa. Rooms can be booked to accommodate larger groups : Max 12 people in the Vunikau Residence (made up of Penthouse Suite, 2 x plunge pool Suites & 1 x Suite with deck). Max 17 people in Beachfront Residence (made up of Duplex Villa, Grand Villa & Media Room for 3rd bedroom)
Honeymoon Bonus: Complimentary massage for two (1 hour) and bottle of sparkling wine
Children's Policy: Complimentary Kids Club operates daily from 8am – 9pm for children 0 – 13 years. Complimentary babysitting available for these hours
Nanuku: Dreams holidays do come true …
Located beachfront in Fiji's 'Adventure Capital', Pacific Harbour, this all villa boutique resort provides discerning guests with a 'holiday house' style experience but with the convenience of a gourmet meal inclusive rate and pampering staff.
Nanuku is located in Pacific Harbour to the mainland of Fiji, Viti Levu. Getting to Nanuku is easy! Vehicle transfer time is approximately two hour, thirty minutes ex Nadi Airport. Want to arrive a little quicker? Fast air transfers are also available. See map below for exact island location.
Latest deals for Nanuku created by our Fiji Island experts
"Trip of a lifetime, bula Fiji!" – Tripadvisor.com
Bula! If you are looking for a unique, relaxing, fun for everyone vacation for your family, look no further. Nanuku is such a special place that I hesitate to share how wonderful it is for fear that we will not be able to book it again! Karin, the GM, has created her vision for a unique, culturally rich, luxurious Fijian experience and it delivers!
Summary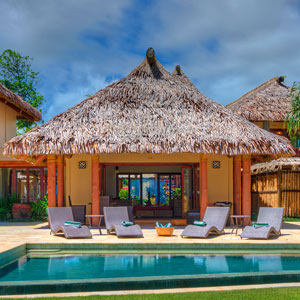 Rating
Resort Name
Holiday Package