Shangri-La's Fijian Resort
Shangri-La's Fijian Resort ticks all the boxes for a fun family getaway. Enless activities, fabulous kids club, 3 pools
&

dining choices. Everyone wins!
A hugely popular resort for good reason!
One of Fiji's most well known holiday properties, Shangri-La's Fijian Resort & Spa epitomises the term 'something for everyone'. Located exclusively on the beautiful 109 acre Yanuca Island, it is attached to the mainland by causeway, a convenient 1 hour drive from Nadi Airport. Featuring a 9 hole golf course, wedding chapel, a modern well equipped gymnasium, 3 fresh water swimming pools, shopping arcade, 2 tennis courts, renowned kids club, and a turquoise lagoon beach that is swimmable in all tides, it is little wonder that the resort continues to be one of Fiji's most popular holiday destinations.
A traditional Fijian village is the inspiration behind the resort layout and experience, and all of the 442 guest rooms feature water views. The renowned 'Chi Spa' not only adds a pampering dimension to the resort, but the adjacent oceanfront bures offer a luxuriously decadent option for couples only in what is traditionally one of Fiji's most popular family resorts. That said, children continue to be exceptionally well catered for at 'The Fijian' (as she is affectionately known). Kids under 12 stay & play for free and kids under 7 years also eat for free. It is a universally known truth – happy kids mean happy parents!
Location: Coral Coast. 1 hour drive from Nadi Airport
186 air conditioned hotel rooms/suites available during the refurbishment period (442 rooms total)
2 restaurants and 1 bar
2 resort pools. Gym and Chi – the Spa at Shangri-La available
TV in all rooms/suites
Inclusions: Buffet breakfast daily
Complimentary WiFi internet access available in hot spots throughout the resort
Max 3 adults or 2 adults/2 children U17 years per hotel room. Premier Ocean Bures accommodate 2 adults only. Deluxe ocean family rooms accommodate 2 adults/3 children U17 years
Honeymoon Bonus: N/A
Children's Policy: Complimentary Kids Club operates daily from 9am–12pm and 1pm–5 pm for children 4–12 years. Babysitting available (charged). Children U7 years dine free when dining from buffet restaurants with a paying adult (conditions apply). Family friendly accommodation
Shangri-La: Something for everyone …
Shangri-la's Fijian Resort is a long time favourite of travellers to Fiji. The 'Fijian' as it is affectionately known, is located on the Coral Coast and is a popular holiday spot for families and couples. With numerous activities, a great lagoon swimming beach, variety of restaurants and bars and 3 pools is a fabulous all round resort.
Shangri-La's Fijian Resort is located on the mainland of Fiji, Viti Levu. Situated on the popular Coral Coast, this resort is easily accessible. A vehicle transfer time is approximately one hour from Nadi Airport. See map below for exact location.
Latest deals for Shangri-La created by our Fiji Island experts
"A tropical paradise" – Tripadvisor.com
The perfect vacation. A dream location by the water. All the activities you could hope for: snorkelling, kayaking, catamarans, scuba diving. Fun for the kids as well with hair braiding, kids club and kids disco. The resort is incredibly well run. We were there during school holidays with the resort completely full yet we never felt the crowds.
Summary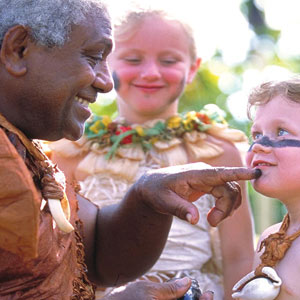 Rating
Resort Name
Shangri-La's Fijian Resort
Holiday Package
Fiji Resort - Coral Coast