Need a family holiday but don't know which resort to choose? We can help.
 'Family Friendly' means many different things …
It's a fairly generic term that encompasses a variety of standards, inclusions and levels of care giving. Some resorts offer a full blown Kids Club – all day, fully supervised, fun (and often educational) activities and excellent facilities.
Some offer a Kids Activity Program that runs for a couple of hours in the morning and the afternoon either year round or just during school holidays.  Some simply have a pool, a few pieces of playground equipment at the back of the resort and a general assumption that a family holiday means families engaging with each other all day, every day.
Not all Kids Clubs are the same. Neither is each family resort experience.
Not all Kids Clubs are created equal just as each family has their own take on what they think a Kids Club/Family Friendly resort should provide.  Here are a just a couple of very different options that are definitely worth a second look:
Here's a careful selection of five of the best kids clubs that never disappoint.
This Vanua Levu located resort is an industry leader in Fiji when it comes to offering children friendly facilities.  Their nightly rate includes an exclusive nanny (often referred to by mothers as a Godsend) for children aged U6 years from 8.30am – 9pm daily and a Fijian buddy for children aged 6 – 12 years. Teenagers have a dedicated activities staff member from 8.30am – 9pm.
Their complimentary Sun Smart Bula Club children's program operates daily from 8.30am – 9pm and includes all activities, meals and soft drinks/bottled water/juice .   Located just a short walk from the centre of the resort, its facilities include a family pool with water slide, a toddler pool with small water slide, sand pit, toddlers nursery for afternoon naps, trampoline, flying fox, tricycles, playground equipment, a cubby house and a nearby treehouse that provides hours of imaginative entertainment for younger children.
There is a full time activities director who works with Bula Club to ensure that the activities are as educational as they are fun and engaging.
Located on Fiji's Coral Coast, The Outrigger Fiji is a family favourite and it is easy to see why. Its complimentary Kids Club welcomes children aged 3 – 12 years in 2 separate programs.  Little Riggers offers activities for the 3 – 7 year olds and Beach Riggers for children 8 – 12 years and their activities are organised relevant to their age groups.  The program runs in 3 sessions a day (10am – 12pm, 2pm – 4pm and 6pm – 9pm) and children can join 1 session or all 3.
Their enormously popular Meimei Nanny Service is available for children aged 6 months – 12 years and provides a nanny for 8 hours a day for 4 consecutive days for a fee of F$350.  Most popular with families with toddlers, children are engaged in fun activities that are customised to their age and interests in a schedule that is tailor made for them in conjunction with their parents. A Teen Activity program also operates for guests 13 years + and includes a number of offsite excursions and a student exchange trip to a local Fijian High school.
Adopting a less formal approach to kids activities, Aquana Beach Resort has nannies on hand at the resort between 7.30am – 9pm daily to oversee young children and keep them entertained and happy whilst parents relax nearby.  Nannies are not booked in for an allotted time but rather work in with families to support parents as needed.  This approach to childcare contributes much to this resort's relaxed rhythm. The nannies spend their days in the pool with the kids, jumping on the trampoline, playing sandcastles, catching hermit crabs, weaving coconut leaves, playing volleyball or soccer, and even taking the kids for a kayak. The service is complimentary whenever parents are on the resort and they are available to accompany families on excursions or for more 'scheduled' babysitting if preferred, with a small fee payable directly.
One of the Cook Island's most comprehensive Kids Club's is found at the popular family resort affectionately known as the Rarotongan.  Moko's Kids Club operates year round Mon – Sat for kids to 4 – 11 years in 3 sessions (9am – 12pm, 2pm – 5pm and 7pm – 9pm) and complimentary snacks and drinks are provided in each session.  The fully supervised program operates from their large play room but includes a number of interactive educational experiences that encourage children to learn about the Cook's unique culture.  Of an evening, the club hosts a Kids Movie Night allowing parents the opportunity to enjoy a romantic dinner.
The resort also operates the Banana Beach Playland Crechè for toddlers 0 – 4 years again in 3 sessions as noted above, charged at a fee of N$45 per session, and a Teen Zone for 12 – 16 year olds.  Activities for the latter operates on an as needs basis although the actual Zone is open all day and includes a variety of computer games relevant to this age group.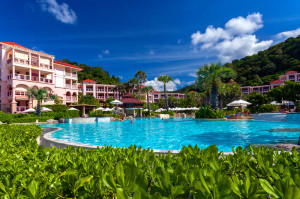 One of our most popular family resorts in Thailand, the Centara Grand Beach Resort located on the popular Karon Beach in Phuket, offers families an overwhelming choice of entertainment.  Apart from the complimentary Kids Club (Camp Safari for children aged 4 – 9 years and E- Zone for children aged 10 years +) which operates daily from 9am – 6pm, there are endless hours of family entertainment to be had in its onsite Water Park. Complete with a meandering lazy river, waterslides, kids pool with (small) water slide, adults only pool and swim up bar, it is sure to occupy adults and children alike for days on end!
Contact Island Escapes for further details about these and all our family friendly resorts.
Escape Artist Approved Kids Clubs.