Tranquil water views as far as the eye can see
We desperately needed a holiday but had only a few days off. Fiji Marriott was perfect. On arrival in Nadi, it was a simple car ride to get to/from but we could have been on an island in the middle of no where for all we knew. So relaxing.
With luxurious Over Water Bure Villas
Fiji Marriott Momi Bay offers an island experience just 40 minutes drive from Nadi Airport
And is a very welcome addition to Fiji's stable of deluxe resorts
Every one of the 250 accommodations and 3 restaurants at the Fiji Marriott Momi Bay has a view of either the ocean or one of the man-made lagoons that the resort has been built around. The result is a sense of tranquility the likes of which is normally found on island resorts.
Designed in a Polynesian style with luxurious contemporary décor, guests can choose between hotel rooms, Bures and Over Water Bure Villas depending on their budget and needs. Each feature all the amenities you would expect of a resort of this calibre, including interconnecting hotel rooms for families with young children, thoughtfully located near the dedicated children's pool and Kids Club.
The spacious bures are located either lagoon or ocean front and whilst not interconnecting, are duplex making them a wonderful option for families with older children or couples seeking a quiet escape.
For the ultimate in romance and luxury, the adult only (18 years +) Over Water Bure Villas are the perfect choice. At 60 sq meters, guests enjoy not only the luxury of space, but also premium amenities and direct lagoon access from the balcony.
Spoilt for choice
There are 3 restaurants at the Fiji Marriott Momi Bay to choose from ensuring all tastes are catered too. The Goji Kitchen & Bar serves Asian/Indian fusion and hosts a delicious breakfast each morning. The Fish Bar is a popular choice each evening, where freshly caught seafood and grilled meats are served with a stunning sunset ocean view. Mediterranean is on the menu at the Lagoon House & Bar – a laid back poolside restaurant on one side, and a swim up bar on the other. For a more relaxed approach, or a picnic on the beach, the Fiji Baking Company whips up fresh sandwiches, breads, snacks and deli items daily.
The Turtle Kids Club operates from 9am – 5.30pm for children 4 – 12 years. There is a playground onsite and a dedicated children's pool ensuring kids of all ages are well entertained. Other resort amenities include a well equipped gym, a variety of watersports, a dedicated adult only pool, mini golf, tennis, squash courts, a jogging trail and an expansive Day Spa.
A place for everyone
The resort manages the mix of couples and families well. There are tranquil adult only zones and boisterous kid friendly areas, ensuring the holiday needs of all guests are met and not compromised.
However, the magic for us really lies in the Fiji Marriott Momi Bay's sense of 'island', which given its mainland location and close proximity to Nadi Airport, is convenient and makes for a very 'easy', relaxing escape.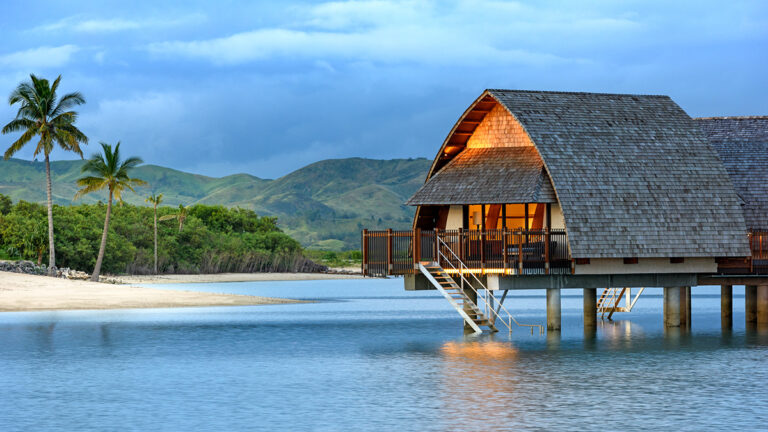 Most frequent questions and answers
ESCAPE THE ORDINARY. GET A QUOTE FOR FIJI MARRIOTT RESORT MOMI BAY
How to get to Fiji Marriott Resort Momi Bay
The Fiji Marriott is located at Momi Bay, a 40 minute vehicle transfer from Nadi Airport. See map below for exact island location.
ESCAPE THE ORDINARY. GET A QUOTE FOR FIJI MARRIOTT RESORT MOMI BAY
Love this Fiji resort? Share it with family & friends...